DOI
Its architectural plan reveals a route for visitors from the front entrance directly into the gallery, thus ensuring its separation from the house's domestic areas and workspaces. Watts carefully controlled—one might say curated—the display of his own art from the 1880s onwards. The varied hang implied the totality of his output, while the inclusion of oil sketches and unfinished works helped viewers follow his process, underscoring the notion of an artist as a creator, or even as a genius, at work. This gallery became the key to Watts' status, functioning as a stage for his performance as an artist, a place where he constructed his self-image. No other artist in London had a comparable arrangement.
DOI
Other artists' studio-houses of the period embodied related themes of display, celebrity, and self-fashioning. Leighton acquired and carefully arranged his collection of historical and contemporary artworks25 within what Jason Edwards has called this artist's "encrypted environment".26 Designed by Richard Norman Shaw, Frank Holl's Three Gables (1882) is no longer extant,27 another victim of the lack of regard for Victorian architecture in the mid-twentieth century. Fortunately, a wealth of material, including Shaw's beautiful architectural drawings, show the exterior and interior of the house, revealing it as a place of work and sociability. Finally, Mortimer Menpes' Japanese-themed house in Sloane Square, Chelsea, was a bizarre example of one artist staging Japonisme as a professional and lifestyle choice in London during the 1890s.28
Response by

Kate Nichols, Birmingham Fellow in the Department of Art History, Curating and Visual Studies, University of Birmingham
DOI
Animals in the Studio-House
DOI
"Workshop" is an exceedingly applicable name for the studio which has seen the birth of many of Mr Riviere's pictures. It may at once be said that it is not the studio of a Leighton or an Alma Tadema. The floor is utterly devoid of luxurious and costly carpets and rugs. Dogs and horses, sheep and pigs, are not calculated to improve the quality of an expensive carpet, or add to its lasting capabilities. The floor is elaborately decorated with scratches from many a dog's paw and horse's hoof.29
DOI
DOI The animal painter Briton Riviere's London studio was consistently characterised as austere and distinct from those of his non-animal painting contemporaries, and the destructive capabilities of his non-human models were a regular feature of discussion. Located at 82 Finchley Road, his house also contained a more conventional area where Riviere posed as painter in the photographs that illustrated these articles (Fig. 23), as well as a straw-bedded stable zone for his models, sadly never shown in the photographic record. Yet even without the straw-strewn floor, the more presentable end of Riviere's studio visible here is distinct from those of his artistic colleagues, with its disembodied animal skins and skeletons.
DOI
The absent animal modelling area dovetails with my own research into absences in artists' studio-houses. To what extent is it possible to uncover the agency of artists' models in general—and animal models in particular? How did these actors assert their presence? Riviere's animal subjects are said to have physically impacted upon the studio, their living, stamping, scratching, and defecating bodies reshaping the visual and olfactory experience of a studio-house.30
DOI
Riviere's studio, however, was just a small part of his process, for he painted only domestic animals there. Famously, he sketched more exotic species at London Zoo, which was in walking distance of his studio-house. Some of these animals did eventually enter his studio as cadavers to be dissected, articulated, and used for anatomical study—as shown in this photograph.
DOI
Many of these animals had arrived in London as by-products of imperial endeavour, and my research into animals in studios is part of a broader project that explores the global and specifically imperial contexts of the making and reception of nineteenth-century painting. Natasha Eaton has considered how the presence of pigments on an artist's palette, as she puts it, "raw and rare substances from across the globe that wait to be transformed … invites us to think through imperial networks and their coming together, their assemblage as paint to be (re)mixed."31 Similarly, the nineteenth-century studio-house was a metropolitan crucible where not just the local and global materials of art might come together, but also where the domestic and exotic flora and fauna of Britain and its empire were assembled and rendered anew on canvas or in clay.
Response by

Melanie Polledri, Doctoral Candidate in the History of Art Department, University of York
DOI
Framing Networks: The Artist's Studio
DOI
DOI Taken during 1930s, Bedford Lemere & Co.'s photograph encourages us to consider the extent of the Welsh-born New Sculptor William Goscombe John's networks—as a Royal Academician, as a patriotic Welshman, and as a son of the British Empire (Fig. 24). It shows John sitting crossed-legged, nonchalantly reading a book in his upper studio. Devoid of any workman-like paraphernalia, which was confined to his workshop below, this hallowed space was reserved for the hosting of auspicious events, such as the John family's musical evenings attended by the great and the good of St John's Wood, London, and farther afield. Presenting the ageing sculptor centre stage, surrounded by art objects that span the Empire, the photograph charts John's fifty-year career, mapping his networks from Paris, Rodin, and the promotion of sculptural modernisms at the National Museum Cardiff, to wider debates on centre–periphery and artist–artisan.
DOI
Through John, these objects evoke Bruno Latour's non-human "actants", as they articulate and disseminate specific national and international knowledge, politics, and power relations.32 To pick just a few, John's The Elf (1898, at far right in the photograph here),deposited as his Diploma work at the Royal Academy upon election as a Royal Academician, connects him to English, Welsh, and Scottish art institutions. The Drummer Boy, a statuette-sized model from the King's Regiment monument in Liverpool (1904, left of The Elf) connects John with the South African Wars, the Belgian Congo, Empire, and Welsh nationalism, as well as the soap magnate, William Hesketh Lever and the ethnographic sculptor Herbert Ward. Of the two equestrian models, the Tredegar Monument (1906–1910, centre), a launch pad for works such as the Viscount Minto (left of the Drummer Boy), takes John on an imperial journey from Cardiff via London to Calcutta. The St John the Baptist (1894, centre) forges links to Rodin, Paris, and the Marquess of Bute's homes at Cardiff Castle and Regent's Park. Alfred Gilbert's prominently placed Icarus (far left) and Head of Girl (left of Viscount Minto, both 1884), reflect Parisian and Renaissance influences, and tie John to the New Sculpture scene in London. Juxtapositional relationships also emerge: John's Boy Scout (1910, centre right), while formally mirroring Gilbert's Icarus, evokes Empire, the First World War, and Wales. Alluding to John's homoerotic sensitivities, the Boy Scout partially obscures John Singer Sargent's watercolour of a reclining male nude (ca. 1900).33 These, as part of a central subgroup, including John, the Tredegar Monument, and the St John, contribute to debates on imperial masculinities.
DOI
Within this interior, these art-historical and geo-political landscapes are drawn centripetally to John. The transnational and global become local; objects, locations, and geographies—as sites for production, exhibition, and representation—are brought together within one imperial frame at the heart of Empire.34 Yet, simultaneously, they radiate centrifugally outwards beyond these boundaries. In untangling such interwoven connections, new relationships emerge that help us consider the broader implications of late nineteenth-century imperial networking practices that connected people, places, and institutions.
Response by

Jason Edwards, Professor of Art History, University of York
DOI
Eternal Treblinka? The Unaesthetic Interior, or, Turner's Cats
DOI
William Leighton Leitch provided a suggestive account of Turner's studio-house in Queen Anne Street, London, after he visited it in the mid-1840s, paying particular attention to the resident cats. Lost in a reverie, Leitch recalled suddenly "feeling something warm and soft" moving across the back of his neck and shoulders, and, turning his head, he found a "most peculiarly ugly", "dirty whitish", "broad-faced cat", with its "fur sticking out", and whose "pinky" eyes "glared and glimmered" at Leitch in an "unearthly manner". Leitch put up his hand to "shove the creature away", and, in so doing, let his umbrella fall, startling four or five other cats, by then moving about his legs in an "alarming way". Leitch "did not like the thing at all", so picked up his umbrella and made for the door, quickly getting to the foot of the stairs. On looking back, he saw a number of cats at the top glaring at him, every one "without a tail".35
DOI
That Turner owned Manx cats is a perhaps surprising thing to draw attention to in an essay on artists' studio-houses (Fig. 25). But the way Turner prioritized his cats should give us pause for thought. After all, Leitch also documented that Turner's Fishing upon the Blythe-Sand (1809) was not well "looked after", and "served as the blind to a window that was the private entrée of the painter's favourite cat, who one day, indignant at finding" it in her way, "left the autograph of her 'Ten Commandments'" on it.36 Whilst Leitch was appalled, Turner did not mind the cat's scratching or spraying, saying to his housekeeper, "Oh, never mind". His lack of irritation encourages us to rethink Victorian studio-houses in more humanamimal, rather than anthropocentric terms. After all, Turner not only had cats, and frequently depicted animals in his pictures, but self-consciously employed whale oil and beeswax in his paint, and used brushes made of hog-, badger-, and horse-hair. Whilst such "raw" animal materials are the conventional stuff of a painter's trade, Turner's cats, and the birds who flew in through the skylight and took up residence in the studio, inspire us to think about questions of artistic/animalistic co-agency. If the pigeons crapped involuntarily on the canvases, the cats knew what they were doing when they scratched or scented the pictures, and Turner did not mind, or relished, their cooperation.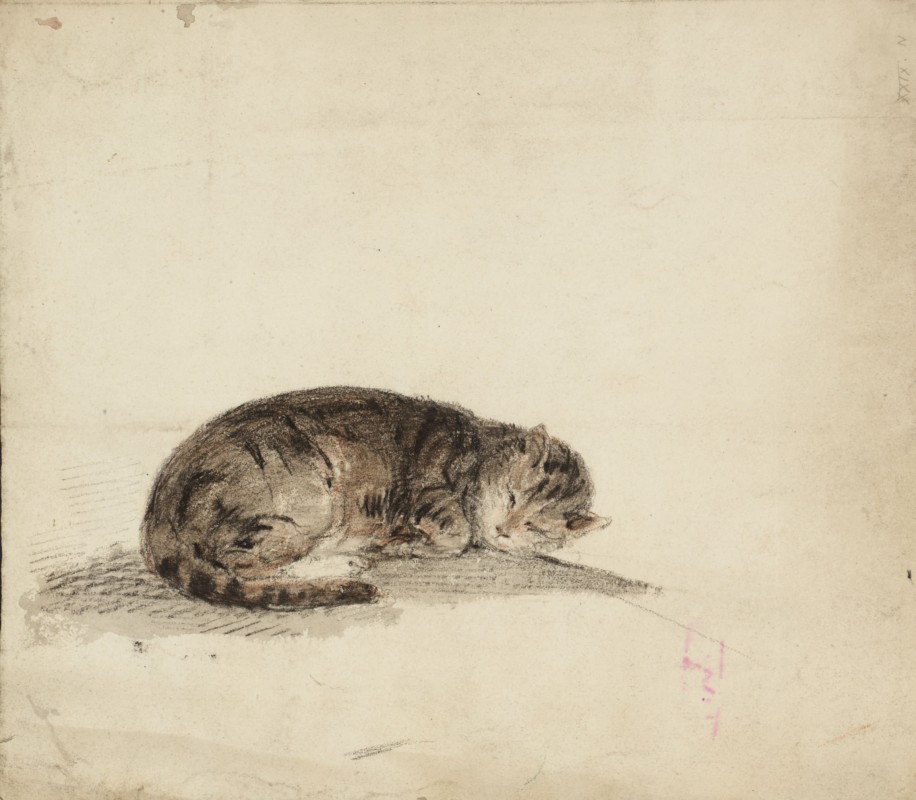 DOI
In this moment of unprecedented extinction, we need to pay more attention to the ghosts of animals littered across art history, and to crediting their co-agency. Otherwise we will be even more guilty, than we are already, of contributing to the "eternal Treblinka" going on around us, every day.37
Response by

Joanna Banham, Director, Victorian Society Summer School
DOI
The Studio and Bohemia
DOI
The Portrait (1880) was painted by Dewey Bates (1851–1898), a little-known and only moderately successful artist who was born in Philadelphia, studied in Antwerp and Paris, and settled in England in 1878 (Fig. 26). His depiction of a comparatively modest painting room provides a useful counterpoint to the opulence characteristic of wealthy Victorian artists' "Show Studios". More significantly, this representation of artful disarray relates to contemporary literary and visual narratives about artists and Bohemia.
DOI
The domestic character of Bates' interior reminds us that most artists adapted rooms in houses as their studios; the inspiration for this scene may well have come from Bates' own workspace. He rented several accommodations during his first years in London, all in Fitzrovia and Bloomsbury, areas affording cheap rents and thus popular with artists. Or this interior may have been based on an upstairs room in the detached villa in Streatham where Bates lodged between 1879 and 1881.
DOI
Yet it would be naïve to imagine that this interior has not been assembled carefully: it contains a plethora of objects emphasising its owner's affiliation with the fashionable aesthetic style. Japanese influences are especially prominent in the painted screen, prints, and De Morgan-esque tiles set into the fireplace. The luxurious textile draped over the easel, the richly embroidered cushion, and the reproduction of Giambologna's Mercury are equally striking signifiers of refined artistic taste. The tools of the painter's profession are also much in evidence: the easel, palette on the wall, colours on the floor, brushes and sketches on the table, and many paintings propped against walls. A particularly intriguing feature at far right is the framed painting standing on its side—a miniature replica of The Portrait itself.
DOI
By 1880, similar Japanese and aesthetic accessories were routinely associated with artistic interiors and appeared in images of studios belonging to, for example, Alma-Tadema, Tissot, Eakins, and Chase. But the influence of the artistic milieu of Paris, where Bates had trained, and of the proliferating literary narratives about artists and Bohemia were arguably more significant. These two strands came together in fictional accounts like Du Maurier's Trilby (1890), which echoed the formula of social, sexual, and creative freedom first established in Henri Murger's Scènes de la Vie de Bohème (1850). Thereafter, countless novels described the lives of tortured geniuses indifferent to convention; studios that were the antithesis of ordered domestic taste became a cliché of the genre.
DOI
Finally, The Portrait can be read as a commentary on class, gender, and the act of looking. The room is modest and untidy but not impoverished or squalid. The champagne bottle, playing cards, and long-stemmed pipe denote a bachelor Bohemianism, but the invitations on the mantelpiece suggest an existence by no means outside the realms of feminine and fashionable society. The costly and exotic objects, artfully strewn around the room, reveal the artist's refinement, not his disregard for beauty. And, despite the many signifiers of masculinity, the interior appears both decorative and feminine, not least due to the prominence given to the elegantly dressed woman scrutinising another woman in the portrait on the easel. Women in depictions of studios were usually models, often half-dressed, displayed for the artist's and viewers' inspection. Bates' painting presents a refreshing reversal of these roles. His sitter is the social equal—perhaps the superior—of the artist, her face is turned away, and it is she who is engaged in looking at—maybe judging—the artist's skills.
Response by

Jan Dirk Baetens, Assistant Professor, Radboud University Nijmegen
DOI
Come Dine Without Me: The Dining Room in the House of Henri Leys by Henri De Braekeleer (1869)
DOI
In 1869, the Belgian Henri De Braekeleer made a painting of the dining room of his uncle and teacher (and Alma-Tadema's former teacher), the celebrated history and historical genre painter Henri Leys (1815–1869) (Fig. 27).38 It was commissioned by Leys' close friend and dealer Gustave Coûteaux following his unexpected death a few months earlier. Coûteaux may have seen it as a tribute, but he undoubtedly also recognised its commercial potential. This room was famous for its historicising murals executed by Leys himself in the late 1850s and early 1860s. It had long attracted artists, critics, and other admirers from across Europe and would continue to do so. A few years before Leys' death, the powerful Anglo-Belgian dealer Ernest Gambart had joined with the French publisher Auguste Poulet-Malassis to finance a series of etchings by Félix Bracquemond after the murals.39 Only one etching was completed, but Gambart managed to buy a set of five replicas of the murals, made by Leys himself, which he then exhibited for sale at his London gallery.40 Photographs of some of the replicas had also been published by the Parisian entrepreneur Louis Martinet, while the Belgian photographer Edmond Fierlants sold them in various formats.41
DOI
De Braekeleer painted what initially seems to be a faithful, almost photographic, depiction. Not unexpectedly, it draws attention to the historicising decor and especially the murals, which take up roughly one-third of the composition. Yet there is more here than meets the eye. Although little happens in De Braekeleer's œuvre of hushed interiors, they often seem to evoke another dimension, perhaps some mysterious haunting presence, or a life they lead on their own. As Alison Hokanson has explained, De Braekeleer's interiors, including this one, seem to anticipate symbolist notions that would gain currency in Belgian avant-garde circles only in the 1880s and 1890s, especially in the work of Xavier Mellery.42 In particular, his scenes indicate a remarkably early interest in the symbolist idea of "the soul of things", the ungraspable spirit of inanimate objects, including the interiors such objects adorn, formed by memories of the humans who occupied them.
DOI
The Dining Room in the House of Henri Leys is also a very personal tribute from De Braekeleer to his mentor. As such, it is a meditation on the (im)possibility of bringing the past back to life, as Leys' historicising art had once done. The murals in Leys' dining room are a good example. They show the preparations for a feast in a sixteenth-century city, with people walking to the festivities, calling at their host's house, and being greeted by him and his family. Yet the feast itself is not depicted, and its absence implicitly invites Leys' own guests to bring the narrative to a close in modern time: to participate in the invisible feast in his sixteenth-century-styled room. Thus, the past could actually be recovered in one's lived experience.43
DOI
Such a resurrection is no longer possible in De Braekeleer's painting. The dining room is abandoned; the skewed perspective seems to elongate it, emphasising the emptiness. Absence is underscored by suggestions of recent human activity: the table's casters indicate it has just been moved to the left. Pushed against the walls, the chairs are strikingly empty. What remains are the whispering ghosts in Leys' murals, though there too the impossibility of bringing back the past is stressed. Leys portrayed himself and his family above the fireplace at far left in De Braekeleer's painting. De Braekeleer, however, framed his scene in such a way that they are just outside the composition: even in paint, Leys cannot be brought back. Coûteaux, upon seeing this painting or a sketch for it, instructed De Braekeleer to add one or more figures, but the artist apparently declined or could not comply.44 Absence, it seems, was essential in this painting.
DOI
The Dining Room, then, is not a mere document, but a complex work of art that can be considered a commercial venture, a proto-symbolist scene, and a personal mourning. Many nineteenth-century representations of artists' studio-houses are cherished primarily for their documentary value. Only rarely do we take them as significant works of art in their own right. De Braekeleer's scene perhaps suggests that we should do so more often.
Response by

Morna O'Neill, Associate Professor of Art History, Art Department, Wake Forest University
DOI
Edwardian Homage: The Artist's Studio and the Art Dealer
DOI
In 1909, the Irish artist William Orpen commemorated a gathering of friends with this painting, Homage to Manet (Fig. 28). Six men sit or stand around a table ready for tea, posed beneath a painting by the French Impressionist artist Edouard Manet, his 1870 portrait of his student Eva Gonzalès. The group includes Orpen's fellow artists Philip Wilson Steer, seated at the table below the painting, and Walter Sickert, standing off to the right. They are joined by the artist and influential art teacher Henry Tonks, the art critic and curator D.S. MacColl, and the Irish novelist and art critic George Moore. They listen as Moore reads from his Reminiscences of Impressionist Painters (1906), which recounted his youthful friendships in Paris, especially with Manet. The one who listens most intently, hand to his head in concentration, is the one who made this homage possible: the art dealer, collector, and philanthropist Hugh Lane. He purchased the painting in 1906 from the Parisian art dealer Paul Durand-Ruel and loaned it to Orpen to hang in his studio.
DOI
The physical space of Homage is that of Orpen's own studio in South Bolton Gardens, Kensington, where he worked between 1906 and his death in 1931. Lane lived in the rooms below Orpen's studio from 1906 to 1909. An air of easy familiarity with masterpieces is evident in Orpen's painting: the Manet presides over comfortably upholstered furnishings, a casually discarded hat and gloves, and the table set for tea. Orpen's painting treats Manet's portrait as part of an ensemble in the same way that interior design displays paintings in relation to decorative and functional objects—it is this kind of associative property of the artist's studio that Theodor Adorno highlights in his essay "Valéry Proust Museum". The studio is the place of art's immediacy, where it is protected from the "barbarity" of the museum.45
DOI
Recent scholarship has turned to the domestic interior as a generative site for cultural meaning, addressing the ways in which the decoration of the private interior was a means of formulating the public self.46 Likewise, the combination of public business and private life in the formulation "artist's studio-home" contradicts the prevailing interpretation of the domestic interior as a retreat from the public self. Walter Benjamin, for one, opposed the office and the drawing room. While the office was "reality", the domestic interior was a "phantasmagoria", the realistic illusion of another world, another state of being: "the private individual, who in the office has to deal with realities, needs the domestic interior to sustain him in his illusions" that his life can escape commodity culture and the marketplace.47 Recent scholarship has returned to Benjamin's insight to address the role of the domestic interior in the construction of masculinity even as it has reiterated his central claim: the domestic interior is a retreat from the world of work for the modern man.48 Yet the artist in his studio-home made "the illusion" of the domestic interior central to his business.
Response by

Caroline van Eck, Professor of Art History and Director of Studies at King's College, University of Cambridge
DOI
The Wiertz Museum, Brussels
DOI
In 1851, when he was forty-five, the painter Antoine Wiertz (1806–1865) obtained from the Belgian government a large house and studio in Brussels in which to live and work. By this time, Wiertz seemed to have a great future behind him. Born to poor parents, his artistic talents had been discovered while he was in his teens, and in 1821, he obtained a stipend from King William I of the Netherlands to study at the Royal Academy of Fine Arts in Antwerp. In 1832, Wiertz won the Prix de Rome, which enabled him to spend three years in that city. The major work he produced there, the colossal The Greeks and Trojans Fighting over the Corpse of Patroclus (1836), was refused for the Paris Salon of 1838 and was greeted elsewhere only with ridicule.
DOI
Upon his return to Brussels, Wiertz developed several highly original strategies to transform this failure into triumph. Establishing his own museum was central to this plan. He embarked on a systematic series of emulations of historical painters (Rubens, Michelangelo) and genres (altarpieces, portraits, historical scenes, heroic and allegorical sculpture). As Wiertz put it in his autobiography: "Peintre, il avait pris Rubens pour émule, sculpteur, il veut s'attaquer au Laocoon" ["As a painter, he decided to emulate Rubens, as a sculptor he wanted to take on the Laocoon"].49 After his failure at the Paris Salon, he refused to compete for commercial success in the usual way: rather than selling his works, he displayed them in his studio-museum. Thus, this space became the means through which Wiertz could achieve several aims at the same time. First, to establish himself as his country's leading artist, an ambition which the government of the recently formed Kingdom of the Belgians supported wholeheartedly. Second, to avoid having to deal with the art trade, the public, or the Brussels and Paris Salons, all of which he professed to despise equally; instead, he sought to control his own image and critical fortunes. And finally, to offer tangible proof of his conviction that Brussels, not Paris, was the centre of the artistic world: "Bruxelles capitale, Paris province", as he put it in one of his manifestos.
DOI
Wiertz left his museum to the Belgian state on condition that the building and collections would never be changed (Fig. 29). It remains open to the public, displaying the large paintings that are decaying rapidly because his experiments with oils dried out too quickly. Also on view are Wiertz's smaller portraits, plaster and terracotta sculptural models, and highly original paintings that comment on social and political events such as the French Revolution, Napoleonic wars, and famines that regularly plagued Belgium. Although Wiertz saw himself as the artistic heir to Rubens, in many respects his subjects, political engagement, and colossal ambition make him closer to Victor Hugo, who for some time was a fellow citizen of Brussels, and who created several artist's houses himself.
Response by

MaryAnne Stevens, Independent Art Historian and Curator
DOI
Astruptunet: Home and Farmstead of the Artist Nikolai Astrup (1880–1928)
DOI
Located in Western Norway, Astruptunet was created from 1912 by the Norwegian artist Nikolai Astrup (1880–1928) (Fig. 30).50 Astrup sought to craft a distinct visual language reflecting the deeply felt experience of his childhood landscape of Jølster, seen through recollection and memory; his engagement with the emerging modernisms of the early twentieth century; and his response to the call for national political, social, and cultural identity. He achieved these through his increasingly non-naturalist, expressionist painting, his highly innovative and experimental woodcuts, and his creation of Astruptunet.
DOI
Perched precariously on the north-facing slope of Jølstravatnet, the artist's home was the product of bringing together eight old, local, wooden buildings to create four elements, the largest of which also accommodated the studio, completed two years before Astrup's death. The garden and farmstead consisted of sculpted turf walls and terraces on which fruit bushes and rhubarb grew, plots for the cultivation of vegetables, an apple and cherry orchard, flower beds and meadows, and an inner and outer field on which goats and a small number of cows would graze. Astrup also created a grotto adjacent to one of the three streams that tumbled down the steep mountainside, planted fruit and birch trees at the property's lower access to intimate entry into his personal "paradise", pruned birch trees to open up views across the lake to embrace "borrowed" landscapes, and pollarded alders to transform them into "troll" trees.
DOI
While the individual dwellings accommodated Astrup's fast-growing family and proclaimed his, and his wife Engel's, commitment to the revival of traditional Norwegian arts and crafts, the garden and farmstead provided food for the family, supplied the subjects for his paintings and prints over the last fourteen years of his life, became a refuge for local plants endangered by modern farming practices, and hence implied a statement about national identity. While other artists at the turn of the nineteenth century—including Claude Monet, Joaquín Sorolla, Max Liebermann, Henri Le Sidaner, and Emil Nolde—also created gardens in order to control nature, the subject of their art, Astrup had a uniquely radical agenda which combined the functional with the aesthetic, the ecological with the proclamation of national identity.
Response by

Daniel Robbins, Senior Curator, Leighton House Museum
DOI
Leighton House Museum and Holland Park's Other Studio-Houses: Future Developments
DOI
Over the course of the twentieth century, two additions were made at the eastern end of Leighton House Museum, the studio-home of the painter Frederic, Lord Leighton (1830–1896). In the late 1920s, a local family named Perrin funded the construction of a two-storey exhibition gallery. Then, as part of post-war restorations, the outdoor space beneath Leighton's first-floor winter studio was in-filled to form toilets, a kitchen, and collection store. Amounting to 43 per cent of the total facility, these two additions mask the original east elevation of the house and are no longer fit for purpose.
DOI
Recently, with the support of the Friends of Leighton House, the Heritage Lottery Fund, and the Royal Borough of Kensington and Chelsea, a scheme has been developed to refurbish entirely the so-called "Perrin Wing" (Fig. 31). This 1920s structure will be re-purposed as the main point of entry into the museum, allowing the cloakroom, shop, reception, and catering functions to be moved out of the historic house, thus reducing pressure on its fabric. Leighton's morning room and winter studio will then be restored and re-presented. The 1950s in-fill will be removed entirely, revealing the original cast-iron columns that supported the winter studio, the now-concealed doorway used by the artist's models, and other hidden architectural features. The resultant space will be enclosed in glass, creating a flexible facility (illustrated here) that looks onto the garden and the surrounding houses. A new basement will be created beneath it, combining visitor facilities with a dedicated collection store and drawings gallery, allowing selections from the museum's holding of more than 700 Leighton drawings to be shown.
DOI
While this project centres on the much-needed enhancements for visitors, including disabled access to all public areas, it will also allow the museum to reposition itself in relation to the remarkable group of purpose-built artists' studio-houses that surround it. Almost all were built in the final quarter of the nineteenth century. With the exception of the home of painter Colin Hunter, lost in the Second World War, and that of G.F. Watts, tragically demolished in the early 1960s to make way for a block of flats, these houses remain. Though privately owned, they reveal much about the personalities, domestic circumstances, and working practices of the artists who commissioned them and, more broadly, the wealth and status enjoyed by successful artists of this period. The lack of display space within Leighton House has always limited opportunities to present this story, preventing visitors from appreciating its rich and fascinating context.
DOI
Following the completion of the project in 2021, this will no longer be the case. New displays within the refurbished wing will present examples of work by the "Holland Park Circle" held in the reserve collection, supplemented by new acquisitions and interpretation, including a short film. Archival material currently in the Local Studies section of Kensington Central Library will be relocated to join the Leighton House and 18 Stafford Terrace archives at the museum. A new guide and app will encourage visitors to take a walking tour encompassing the other houses, and regular guided tours of the neighbourhood will be offered.
DOI
In the longer term, a series of in-focus exhibitions and publications will become part of the museum's programme, exploring each of the artists and their houses in turn. With planning and funding decisions anticipated in Summer 2018, Leighton House is on a path to become "the museum of the Holland Park Circle", a gateway to the discovery of this unique enclave of artists' studio-houses.
Response by

Nicholas Tromans, Programme Director, Christie's Education, London
DOI
Watts Gallery and the Single-Artist Museum
DOI
Once the habit had been developed of artists being posthumously canonised by Art History and institutionalised in survey museums, it did not take long for artists themselves to take matters in their own hands and begin establishing public collections of their work. The impetus to this new strain of museum-making was given by the secessionist mood of the later nineteenth century, under which doing-it-yourself was a watchword and getting back to the land, in one way or another, went with the throwing off of the academies. Until recently, I served as curator at one such museum, the Watts Gallery at Compton near Guildford, in what is—still, just—the Surrey countryside, where George Frederic Watts (1817–1904) owned a second home from 1891 (Fig. 32).
DOI
Watts never fitted into any canon—he made a point of sidling away from any association he felt likely to recruit him—and he succeeded in convincing his numerous admirers that he was a very great and an utterly unique genius. His much younger second wife, the designer Mary Watts, built up, in pharaonic fashion, a tomb-museum complex in the years leading up to her husband's death in 1904; it was completed just in time for that event. Whether this enchantingly eccentric institution (as it was in the twentieth century) held back or expanded the reputation of the art of Watts is open to debate, although I believe that is beside the point. The Watts Gallery was a classic example of a new type of museum, which was in itself a dynamic creative endeavour, quite aside from the fluctuations of the artist's "critical fortune".
DOI
As the Watts Gallery sought over recent years to piece back together the full complex left by Mary Watts, after its collapse in subsequent decades, we looked about us for peers—other artists' house-museums—from which to learn. There seemed relatively few exemplars in the UK, but many in continental Europe. We set about identifying and contacting them, and these efforts resulted in the Artist's Studio Museum Network, which holds occasional gatherings and is represented by a website with more than 150 European single-artist museums.51
DOI
These places are remarkably little studied by museologists, but I would suggest they deserve scholarly attention, apart from their undeniable charm for visitors. There is, furthermore, an intriguing super-league within this category that threatens, paradoxically, to outgrow neighbouring museums that offer massively broader collections and programming. Think, for example, of the Van Gogh Museum or the huge new Munch Museum: not house-museums but national institutions successfully projecting an entire culture through the lens of a single painter-celebrity.
DOI
The personality museum, in which the whole artist can be encountered—failures as well as triumphs within the oeuvre, embarrassing affiliations and relationships alongside avant-garde friends—is not merely a kitsch footnote to the history of art. Rather, it is one way to restore the creative spark to a global museum culture that is arguably losing its diversity and sense of risk.
About the authors
Liz Pretejohn is a Professor of History of Art at the University of York. She has worked as Curator of Paintings and Sculpture at Birmingham Museums & Art Gallery and held chairs at the Universities of Plymouth and Bristol.

Prettejohn is an active guest curator and has co-curated exhibitions on Lawrence Alma-Tadema, Dante Gabriel Rossetti, and John William Waterhouse. In 2011 she gave the Paul Mellon Lectures at the National Gallery, London, on 'The National Gallery and the English Renaissance of Art'.

Peter Trippi has edited Fine Art Connoisseur since 2006. Previously, he directed New York's Dahesh Museum of Art, which specialized in 19th-century European academic painting and sculpture; before that, he held senior posts at the Brooklyn Museum and Baltimore Museum of Art.
Imprint
Author
Date

07 August 2018
Category
Review status

Peer Reviewed (Double Blind)
Licence
Downloads
Cite as

Elizabeth Prettejohn, Peter Trippi, "Laboratories of Creativity:
The Alma-Tademas' Studio-Houses and Beyond", British Art Studies, Issue 9, https://doi.org/10.17658/issn.2058-5462/issue-09/conversation